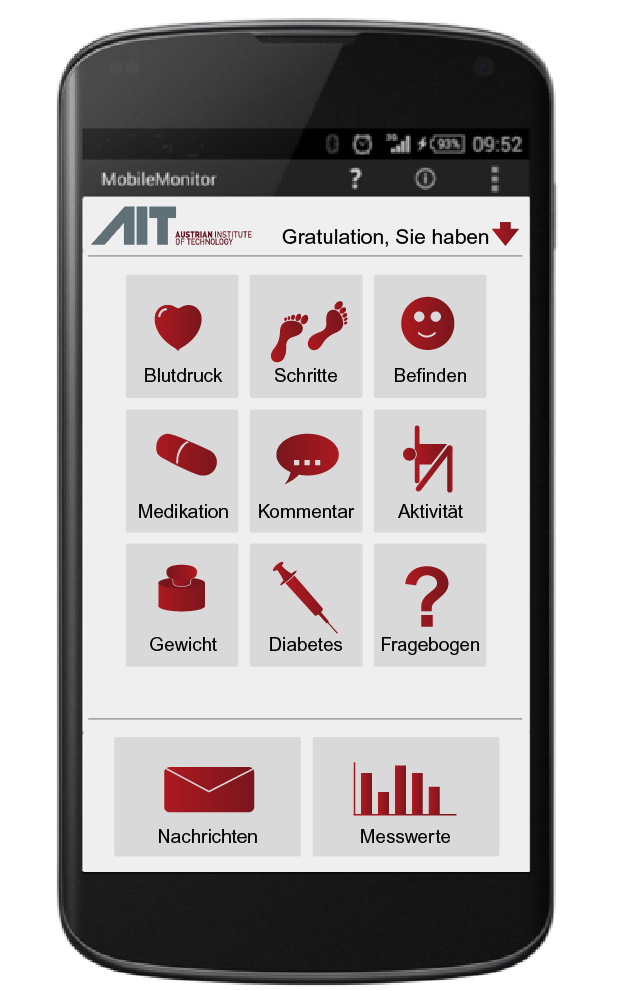 Patients primarily communicate with the care network via smartphone using the "MobileMonitor" telemonitoring app. This allows patients to record and annotate their vital parameters at any time in a freely defined or workflow-based process, to document symptomatic data, to answer questions and write comments in free text form.
The app uses near field communication (NFC) technology to record data conveniently and automatically, thus eliminating the need for manual data entry. If Bluetooth devices are used, this simplifies the laborious process of setting up a Bluetooth connection. NFC also allows an additional access control as, each time the app is used, patients must unlock it with a personal, unique ID card (RFID card). As patients record and manage sensitive data with their smartphones, additional security functions on the smartphone platform such as device encryption or access codes for unlocking can be deployed.
All recorded data are encrypted in the background and synchronised with the telemonitoring system. The telemonitoring system downloads new feedback messages as soon as they are entered into the web system by a doctor. Automatic reports are issued periodically which give patients an overview of their state of health and performance. Patients are alerted to new messages as soon as they become available. The telemonitoring system is notified as soon as patients have read the messages (read receipt). Patients are notified in the app of any modifications to the app settings regarding the data to be recorded.
The combined use of the app and the telemonitoring system provides attending physicians with an up-to-date picture of their patients' state of health. Doctors, in turn, are able to make contact with their patients in a secure and safe manner without having to meet up in person.